7 ways to tell the world your baby died
I know the title of this blog post may seem a bit morbid. But to be honest, when we lost Porter this was on my mind and he was more than just a miscarriage to me. He DIED inside my womb and I was trying to sort out in my brain…
HOW IN THE HECK DO I TELL PEOPLE ABOUT THIS TERRIBLE THING?!
In my world and in my life, I like to live by the assumption that if I am an open, honest, vulnerable book with the things in my life, then maybe people won't say stupid things. ?I may give people too much credit with their empathetic and sympathetic meter, but my therapist said it's ok to protect myself that way so I am running with that! LOL
When we officially found out that Porter had died, we told my mother in law in person and I called my mom after she was off work. From there, they each spread the news on their side of the family so there were no awkward or uncomfortable situations we had to be in. A few of my friends I did trust enough to text that "he was gone." But I wasn't able to continue dialogue after that. It took everything in me to muster up the strength to say it those few times to people. I could not handle saying it to everyone each and every time I encountered them.
I did not want to relive June 24th.
I did not want to cry and crumble to the ground in public places.
(Which was my MO for awhile- sorry cashier at Target, pharmacist at CVS, Starbucks lady, old man in the mall, swim lesson attendees, just to name a few)
I needed a way to tell the masses that my baby had died. Sorry, but there is no cute meme out there that can convey this tragic message. There is no perfect picture or perfect quote either. I google searched "miscarriage quotes" and that just sucked. Everything felt like it couldn't measure up to the feelings I had in the moment. Nothing seemed to captivated my pain.
This is what I went with and now it has become something I treasure because it is just proof that He was my son and he was loved so much.
This for me was what I needed to do. I needed it out there and it was what worked for my family. This isn't the only "way" that women like me… like us… told the world our baby died.
And again, TBH, there is no right way. There is no easy way. But I want to give you SOME possible ways that will help you share this news if you choose to. I asked 122 women how they broke the news to friends and family when they lost their baby. I've taken the time to compile it down to a list of 7 ways to tell people that your baby is no longer Earthside.
Here are the 7 ways people shared their miscarriage, stillbirth or infant loss.
Quote on social media
Writing out your story on a blog, email or social media
Baby picture on social media
Tell your most trusted family member and delegate them to spread the word
Send mass text message to family and friends
Tell people in person as you see them
Make a video or slideshow on social media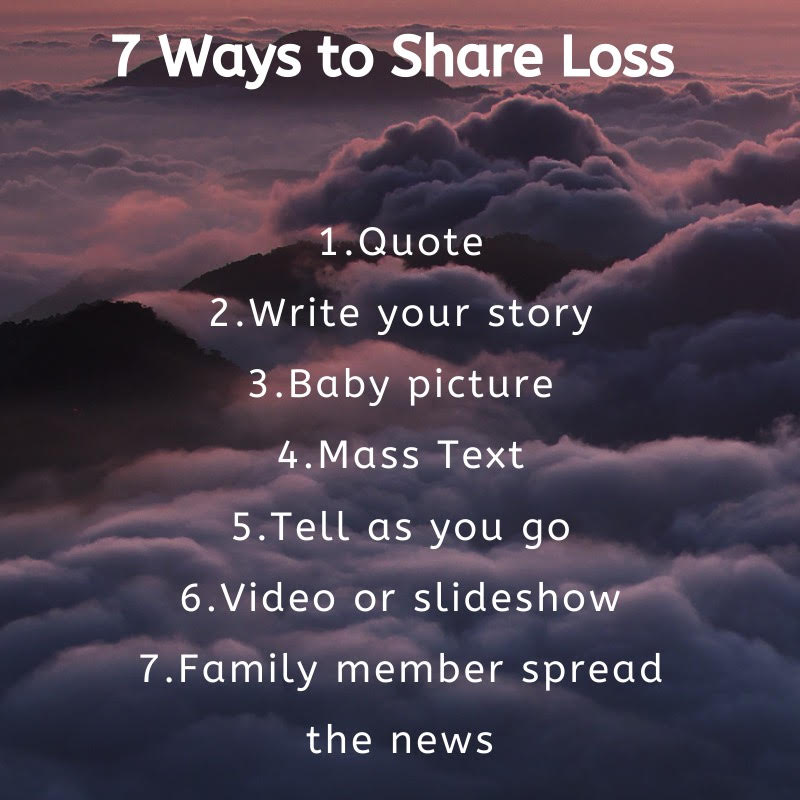 None of these are the perfect way. None of these will keep insensitive comments at bay. (Sorry mama, there are just some NOT so smart people in the world that can't keep the golden rule <3) Try not to get hung up on finding the perfect announcement because it doesn't determine the amount of pain or love you have in the moment.
And mama, if none of these feel right to you, take all the time you need. From the 123 women I heard from, a lot of them waiting weeks, months, to the due date, or years to share with the world about their baby. The funny thing about grief is it takes time to move through and process but that timeframe is different for everyone.
Hang in there. You are loved. Your baby is loved. You aren't alone. <3